Azar Darman Gostar

is a medical equipment sales and service company.
We sell new and refurbished medical equipment to government, businesses, education and healthcare organizations. Whether your needs are large or small, ADG can work with you to deliver the highest quality equipment and supplies for all of your medical needs.
Our staff has extensive healthcare experience and will work with you to deliver quality medical equipment.
---
12-0166 - Haemostatic Kelly forceps, box joint, straight/curved 5½" (14cm)
12-0167 - Haemostatic Crile forceps, box joint, straight/curved 5½" (14cm)
12-0168 - Haemostatic Crile baby forceps, box joint, straight/curved 5½" (14cm)
12-0169 - Haemostatic hospital (Kilner) forceps, box joint 5½" (14cm)
12-0170 - Haemostatic Rochester Pean forceps, box joints, straight/curved 5" (13cm)
12-0171 - 5½" (14cm)
12-0172 - 6¼" (16cm)
12-0173 - 7" (18cm)
12-0174 - 8" (20cm)
12-0175 - Haemostatic Rochester Ochsner forceps, box joint, straight/curved 6¼" (16cm)
12-0176 - 7" (18cm)
12-0177 - 8" (20cm)
12-0178 - Haemostatic Cha forceps, box joint, straight/curved 5" (13cm)
12-0179 - 5½" (14cm)
12-0180 - 6" (15cm)
13-0181 - Haemostatic Rochester Carmalt forceps, box joint, straight/curved 6¼" (16cm)
13-0182 - 7" (18cm)
13-0183 - 8" (20cm)
13-0184 - Haemostatic Rochester Carmalt-Ochsner forceps, box joint, straight/curved 6½" (16cm)
13-0185 - 7" (18cm)
13-0186 - 8" (20cm)
13-0187 - Haemostatic Heaney forceps, box joint 8" (20cm)
13-0188 - Haemostatic "Dudfield Rose" forceps, box joint 10¼" (26cm)
13-0189 - Haemostatic Mixter forceps, box joint 6¼" (16cm)
13-0190 - 7¼" (18½cm)
13-0191 - 9" (23cm)
13-0192 - Haemostatic Finochietto forceps, box joint 9½" (24cm)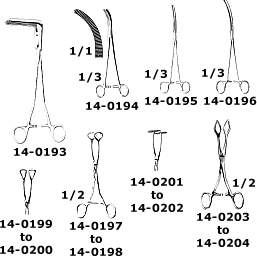 14-0193 - Haemostatic Wertheim-Cullen forceps, box joint (21½cm)
14-0194 - Haemostatic Wertheim forceps, box joint 9½" (24cm)
14-0195 - Haemostatic Crafoord forceps jaws with horizontal serrations, box joint 9½" (24cm)
14-0196 - Haemostatic Crafoord-Sellors forceps, jaws with longitudinal serrations, box joint 9½" (24cm)
14-0197 - Haemostatic Collin's Sellors forceps, Collin lock, oval jaws 6¼" (16cm)
14-0198 - 7" (18cm)
14-0199 - Haemostatic Collin's Sellors forceps, Collin lock, heart shaped 6¼" (16cm)
14-0200 - 7" (18cm)
14-0201 - Haemostatic Collin's Sellors forceps, Collin lock, t-shaped 6¼" (16cm)
14-0202 - 7" (18cm)
14-0203 - Haemostatic Collin's Sellors forceps, Collin lock, rhomboidal 6¼" (16cm)
14-0204 - 7" (18cm)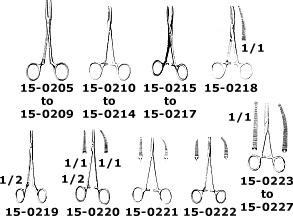 15-0205 - Spencer Wells artery forceps, screw joint, straight/curved 5" (13cm)
15-0206 - 6" (15cm)
15-0207 - 7" (18cm)
15-0208 - 8" (20cm)
15-0209 - 9" (23cm)
15-0210 - Spencer Wells artery forceps, box joint, straight/curved 5" (13cm)
15-0211 - 6" (15cm)
15-0212 - 7" (18cm)
15-0213 - 8" (20cm)
15-0214 - 9" (23cm)
15-0215 Peans artery forceps screw joint 5" (13cm)
15-0216 - 5½" (14cm)
15-0217 - 6" (15cm)
15-0218 - Dunhill's artery forceps, screw joint, curved on flat 5" (13cm)
15-0219 - Halstead's Mosquito artery forceps, screw joint, straight/curved 5" (13cm)
15-0220 - 5" (13cm)
15-0221 - Box joint 5" (13cm)
15-0222 - Halstead's Mosquito Kocher artery forceps, 1x2 teeth box joint, straight/curved 5" (13cm)
15-0223 - Kochers artery forceps, box joint, straight/curved 5" (13cm)
15-0224 - 5½" (14cm)
15-0225 - 6" (15cm)
15-0226 - 7" (18cm)
15-0227 - 8" (20cm)